Baby Cot Play Pen – How To Choose The Best Baby Cot For Your Baby
A Baby Cot Play Pen is a bed specifically designed for infants and young children normally with protective slats or sidebars on all four sides to keep the baby in place.
Choosing the right crib for your baby is an important decision prior to your baby's birth or after they are born. This is because it is one piece of furniture, they will spend most of their time in. Cribs need to be comfortable and safe for your baby as they grow.
Factors to consider when choosing a baby crib
Side Bars – They should be between 2 and 3.5 inches in size to avoid the baby or toddler getting stuck or slipping out.
Mattress – The crib mattress should fit the crib perfectly to have space for no more than one finger between the crib and mattress.
Build material – Wood is the perfect material as it is durable can be repainted or repurposed once it becomes defaced. Plastic and metal are good for nonstandard cribs and can have some eye-catching designs.
Cords and strings – Cribs should not be near anything that a baby can pull but baby mobiles are fine as long as they are kept out of reach.
No toys, Stuffed animals, pillows, or blankets should be used in a crib. If the baby seems cold you can use a swaddle/wrap them.
Types of Cribs
Standard Cribs
This is the most common type of crib that comes to mind when you hear or see the word crib. These types have a simple construction. They have fixed sides with slats throughout and are ideal for parents on a budget or planning to use them for a long period of time.
Convertible
These types of cribs have been referred to as "lifetime cribs" and are gaining popularity due to their ability to grow with your child as they can be converted to a toddler bed, day bed, or a full bed as your baby grows older.
Bassinets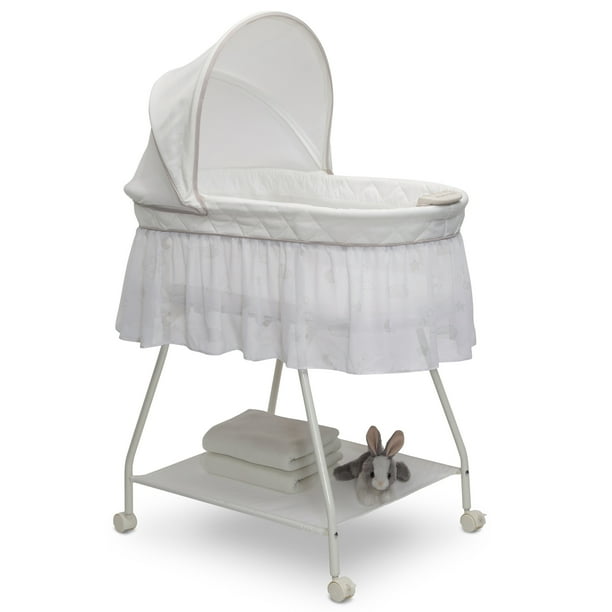 These are more versatile options for new parents as they make it easy to keep an eye on a baby. They are the most mobile crib type and some even rock back and forth. The only downside with some bassinets designs is that they are best for infants.
Travel Cribs
These are best for traveling as they can be assembled and disassembled in no time and stored in a bag. They are ideal for vacations or when you travel away from home. They are however not ideal to be used as a permanent solution.
Babies can use their cribs for up to two years depending on the specific type. We hope this guide helps as you buy one.
By Beth Mugo